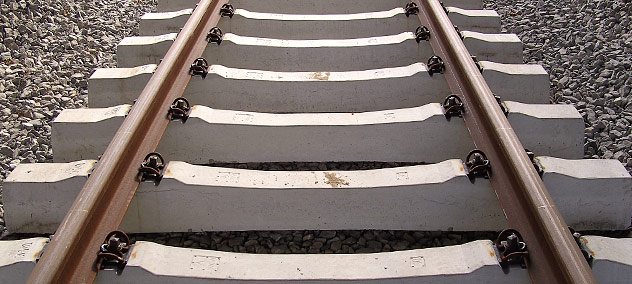 THOSTI's concrete sleepers are better
The former company THOSTI BAUAKTIENGESELLSCHAFT specialised in the manufacture of prestressed concrete sleepers as early as 1949. In cooperation with the Swiss company "Bureau BBRV Ltd", who were mainly concerned with advice, research and development in the prestressed concrete sector, the THOSTI-BBRV pre-stressing system was developed.
Nowadays we are capable of designing, calculating, manufacturing and testing any type of railway sleeper with a range of pre-stressing systems at absolute top quality. Irrespective of whether the sleepers are for normal railway track or switches (turnouts), whether they are mono or bi-block sleepers, whether the prestressing is applied before or after concreting, or whether the reinforcement has and anchorages are not. THOSTI is familiar with a range of production processes (immediate or late shutter stripping, carousel or long bed processes), and can always find the optimum solution.
THOSTI offers everything from consultancy and technical assistance right up to complete turnkey supply of a sleeper production plant.